Welcome to Blue Nectar Contemporary Ayurvedic Products
Contact: enquiry@bluenectar.co.in | Call: 8377994276
What Honey can do to your Skin and Health
Saturday, September 15, 2018 1:09:14 PM Asia/Calcutta
Honey, the sweet thick golden liquid is a natural sweetener and has been used for centuries. In ancient times, honey has been used not only as a sweetener but also as medicine and for beauty treatments. It was known as the nectar of the gods. There are two types of honey available in the market. They are raw honey and regular honey. Though both may have some benefits, it would be wise to know the difference between the two.
• Raw Honey - The honey that comes directly from the beehive is unprocessed, unpasteurized and unheated. This is the raw honey. The raw honey is a storehouse of all the enzymes, minerals and vitamins. It also contains anti-fungal and anti-viral properties that may not be available in regular honey.
• Regular Honey – The honey that you buy off-the-shelf is processed and will not contain the impurities such as pollens. The raw honey is heated to a certain temperature to refine and purify it. When the honey is pasteurized it has a smooth texture and uniform color. While the raw honey is milky and has granules that melt when dropped in warm water. Regular honey may not contain the enzymes and vitamins as pasteurization kills it.
How to Differentiate between Raw Honey and the Regular one
• Drop a spoonful of honey into a glass of water. While raw honey settles at the bottom before dissolving, the regular one dissolves almost immediately.
• Another way to test is to, place a drop of honey on the thumb. If it spreads without dripping, then its raw honey.
• The raw honey crystalizes after a few months while the processed one stays like a syrup.
Why is Honey used in Cosmetics and Beauty Products
Honey is used in the beauty products and in beauty treatments because of the following properties.
• Anti-ageing properties - The golden liquid is a storehouse of anti-oxidants that slows down the aging process.
• Natural anti-septic - Radiance Honey Face Cleanser helps open the pores on the face, thus making it a natural cleanser.
• Anti-tanner - This golden liquid is a natural moisturizer and anti-tanner. Apply honey regularly on your face to get glowing skin. It removes the blemishes caused by acne.
• Anti-bacterial - The antibacterial property of honey makes it's a natural ingredient in acne treatments.
Let's take a deeper look into the uses of honey as a beauty ingredient.
Benefits of using Honey on your Skin
• Deeply moisturizes the skin
Honey is a base ingredient in reputed beauty products is because of its ability to moisturize the skin. The enzymes in this golden liquid seep deep into the skin and conditions it. This makes the skin soft and supple.
• Fights Acne and aids in removing acne scars
You can apply honey directly on the skin in a fine layer. It opens the pores and absorbs the impurities. Being a natural cleanser and antiseptic agent, it soothes and heals the broken skin. Remember honey is a natural antiseptic as well as a natural moisturizer. Apply a concoction of coconut/olive oil and honey on the scars. Place a warm towel on the face and allow it to sit until cool. Make this a regular ritual to get rid of the scars due to acne. The anti-oxidants help repair the damaged skin making it soft and blemish free.
• Anti-wrinkle agent
Honey is the main ingredient in many of the anti-aging and anti-wrinkle masks. The anti-oxidant properties of the nectar help delay aging. Since it seeps deep into the skin, it preserves the moisture. To get clear, smooth and hydrated and wrinkle-free skin, use honey or honey based facial products regularly. However, you should also be aware there is no permanent cure for wrinkles. Honey only helps in delaying the wrinkles.
• Natural Exfoliator
If you wish to remove the dead skin and the black or white heads on your nose, make a concoction with a couple of spoons of honey and a spoon of baking soda. After washing your face with cold water, apply this on your face. Use your fingertips to massage your face in circular motion. Leave it for a few minutes before rinsing well. Honey not only exfoliates the facial skin but also removes the tan.
• Used in the treatment of sunburns
Honey is the best remedy to treat not only sunburns but any types of burns. It helps reduce the inflammation and repairs the damaged tissues. Make a mixture of honey and Aloe Vera gel and apply it on the sunburnt skin.
• Repairs chapped lips
Winter is the time when your lips get chapped. To get back your soft and supple lips, dab some honey on the cracked lips before going to bed. You can also use some honey and salt granules to exfoliate the skin on the lips. However, wash it off after massaging your lips with your fingertips.
• Repairs damaged nail bed and cuticle
If you have been sick for a long time or if you have a habit of biting your nails, there is a possibility of your cuticle and the nail bed getting damaged. The best treatment to repair the nail bed is to dip your fingers in a mixture of one teaspoon honey, apple cider vinegar, and coconut oil. Allow it to sit for 15 minutes before rinsing off. This will strengthen the nails and prevents it from breaking.
• Honey as a makeup remover
If you are someone who indulges in heavy make-up, you should consider using a cleanser with honey as the base ingredient. If your skin is prone to a pimple or acne, then it's always wise to go for acne or a pimple specific facewash that is laced with honey and essential oils. Else, you can make your own cleanser at home. Mix honey and coconut oil well make a solvent. If you have essential oils such as lavender or tea tree add a few drops. Gently massage this mixture into your face to remove the heavy makeup. Honey will not only moisturizes the skin but also repair the damaged skin. Additionally, it prevents the outbreak of pimples or acne.
Category Detail
Beautiful Glowing smooth Skin is neighbours envy and owners pride. It is desirable by every woman, appreciated by every man & envied by every other woman. Genetically, we are wired to be attracted to people with clear skin and a glowing complexion because it's a sign of good health. Ayurveda has some time-proven tricks to make your skin clear, soft, and radiant without spending a fortune or loading up on chemicals.
Stop torturing your skin with synthetic skin care and makeup products containing harsh chemicals. First step in having a friendly skin that bows to your wishes is knowing its type - Vata skin, Pitta skin and Kapha skin. As each of them has different features and characteristics, they should be taken care of in different ways too. Hence, it is of utmost importance that you identify your own skin type prior to starting any beauty regimen. It will help you find out perfect products for your skin care and make you beautiful from inside so that your skin starts reflecting it.
Knowing your skin is akin to finding the road to your destination. Next step is to find the right beauty regime to achieve your destination of glowing, healthy and smooth skin which attracts second glance of everyone. Other steps that could help to achieve glowing, smooth skin are
1. Use of suitable Ayurvedic products at right time and with right frequency to nourish the skin without any side effects. E.g Kumkumadi Night Serum (https://www.bluenectar.co.in/kumkumadi-radiance-glow-night-serum.html) to be used at night and Shubr Face Wash (https://www.bluenectar.co.in/ayurvedic-herbal-brightening-radiance-honey-glow-anti-pigmentation-face-wash.html) to be used during the day. For special requirements like slimming use (https://www.bluenectar.co.in/ayurvedic-herbal-triphaladi-slimming-anti-cellulite-oil.html)or for Stretch Mark removal use Shubhr Bio Oil
2. Get relaxing massages frequently. Find a good, reliable and family Spa (like www.blueterra.in) that makes you comfortable and helps to relax mind and body.
3. Physical and breathing exercises.
4. Get enough rest and sound sleep
5. Provide right food to your skin.
6. Keep your skin hydrated at all times
For customised beauty tips, refer to facebook page at www.facebook.com/bluenectarproduct
Blueterra Blogs
Being depressed is the most dangerous state of mind for a human being. Depression can lead to a pile of nonsense work which people do. This is such a phase where one cannot think either of the present situation nor...
Read More>>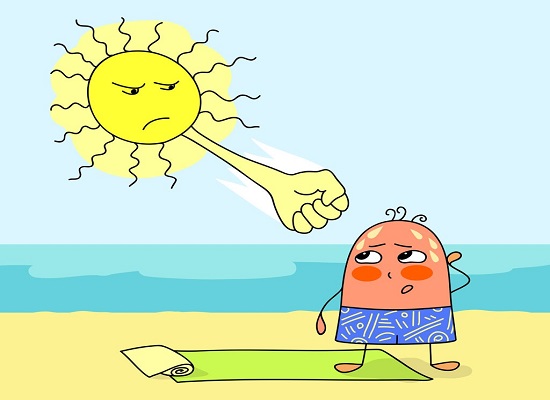 As the summer sets in, the heat waves have reached to the maximum level. The heat is contributing to tiredness and lethargy. The excessive sweat that occurs during summer drains out all the energy that we store. Thus, it is...
Read More>>
If you don't suffer from chronic pain, you probably know someone who does. More than 100 million people suffer from some form of chronic pain. Living with chronic pain on a daily basis is never easy. On top of sticking...
Read More>>
It is true that the lifestyle you follow in your thirties reflects how healthy you would be in your sixties. Although, you may not look or feel much different than you did a few years ago, your body keeps changing...
Read More>>
Blueterra Pages
Thanks Get in Touch SUBSCRIBE AND GET ATTRACTIVE OFFERS facials Facials are also called Mukhdikhai in Blue Terra. Mukh Dikhai – an important traditional custom done during Hindu Weddings – emphasises the...
Read More>>