Kapil Dhameja, Co-Founder
(IIT, IIM)
Tennis, Wine and Ghazal enthusiast with 20+ years experience in FMCG and Ayurvedic retail. Strong believer in inner strength of Mind & Body.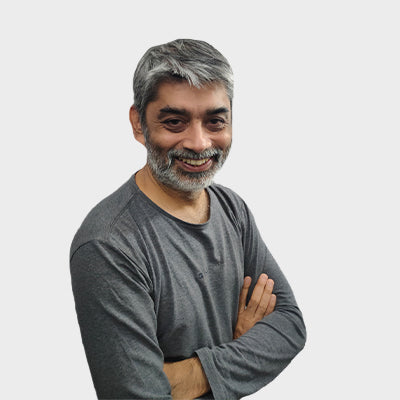 Sanyog Jain, Co-Founder
(IIT, IIM)
Nature, Cricket and Rock Music are elixir of life for this 'entrepreneur for life', with cross cultural experience in Manufacturing, IT and Digital Industries.
Story of Blue Nectar
In our initial days of running a Spa, one of the reactions that we constantly came across was that if it is Ayurveda, then it must be smelly and oily.

This spurred us on to curate beauty products which, while based on Ayurved, were both Contemporary and Sensory. Rich textures, soothing aromas, exquisite packaging transform one to a world of luxury and sensorial bliss.
Contemporary Ayurved
Keeping this in mind Blue Nectar products are curated with Ayurved Doctors, 3rd generation practitioners and inputs from thousands of customers.

Our endeavour at Blue Nectar is to make Ayurved products the preferred choice for everyone. All our products are our attempt to offer products with the goodness of traditional Ayurved that suits modern hectic lifestyles.
Let's Be Blue_tiful !
At Blue Nectar, we firmly believe that if you are naturally yourself, you are Blue_tiful. Taking cues from nature and recipes from Ayurved, we have developed a range of products for the millennials to Be Blue_tiful Naturally.
#SavetheBlue
Water is the Blue Nectar of Life!

All of us are aware that our planet Earth is running out of fresh water resources. The need of the hour is to save water.

#SavetheBlue is a pledge to increase underground water by 10 million litres by Oct 23.

Let's join hands. Every time you buy from us, we contribute towards #SavetheBlue
Ingredient Transparency
We understand that our customers need to know exactly what is in a product that they are using. Not only does it help them to make an informed decision but also avoid any ingredient which might not be suitable for them. This is why we declare the ingredient list transparently on our packaging. No hidden ingredients, no chemicals, only Natural Goodness.