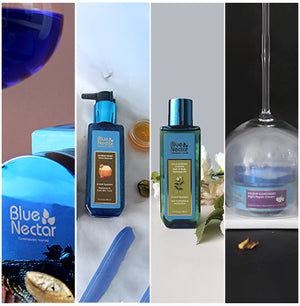 Sensory : Pamper yourself with sensorial bliss
Nothing we touch or smell can be expressed in words that equate what we experience by the senses. We capture the true essence of sensorial luxury right from the moment you hold our products in your hands.

Feel blissful with the soft, soothing aromas while being pampered with rich textures. Wrap yourself in a unique ayurvedic sensorial experience.
Texture : Indulge in rich, soft and creamy textures
Indulge in the luxuriousness of rich, soft textures which glide onto the skin leaving it silky smooth and radiant. Our products are formulated with high performing natural herbs and oils with luxurious sensorial qualities.
Aroma : Mesmerizing aromas to transform your world
Fragrances have the power to uplift our moods and evoke beautiful memories. They have the potential to transform our world from the ordinary to the mystical. We bring to you a collection of specially curated skincare products with mesmerizing aromas to engulf your senses.
Packaging : Feel like Royalty with a touch of Blue
When you think of Royalty and luxury, Blue is what comes to mind. Our sensorial experience is reflected in the details of our packaging with a beautiful hue of Royal blue, reflections of gold, soft and smooth finish, transforming you into a sensuous world of luxury.