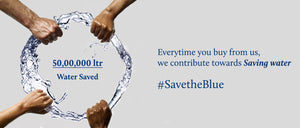 What is #SavetheBlue?

#SavetheBlue is a pledge to increase underground water by 10 million litres by Oct 23.

Every time you buy from us, we contribute towards #SavetheBlue
Why #SavetheBlue?

India has only 4% of the world water resources while supporting 18% of its population. We have a choice to either do something about it or not.

We chose to do something!

Come join us and do your bit!
How are we doing #SavetheBlue?
We have partnered with Sankalp Rural Development Society (SRDS) as part of #SavetheBlue. SRDS through a unique system of rainwater harvesting helps to recharge borewells. In 2 or 3 good rains, enough water is collected to recharge a borewell.
Does your house have leaky Taps? You may be losing 10000 ltr water in a year
Stop water wastage! Leaky pipes, loose fittings, and negligence cause massive water loss. It's time to take responsibility. Check your house for leaks, fix them promptly, and conserve water. Together, we can make a difference! #SavetheBlue